Biocon in Malaysia

Asia's largest integrated Insulins Manufacturing Facility

Biocon entered Malaysia in 2010 through formation of its subsidiary Biocon Sdn. Bhd., and has set up Asia's largest integrated insulins manufacturing facility at an investment of over USD 250 million, which is the highest foreign investment in Malaysia's biotech sector till date. Biocon Malaysia currently employs a team of over 400 people at this state-of-the-art facility. The facility is located within BioXcell, a biotech park in Nusajaya, Johor, which is being promoted by the Malaysian government. This is Biocon's first overseas biopharma manufacturing and research facility.

The facility manufactures the Drug Substance for Biocon's range of rh-insulin and insulin analogs as well as Drug Products in vials, cartridges and devices. It has received the cGMP certification from the National Pharmaceutical Control Bureau (NPCB), Malaysia. The rh-Insulin formulations (Brand Name: Insugen®-R, Insugen®-N and Insugen®-30/70) manufactured at this facility have been approved by the Drug Control Authority, Ministry of Health, Malaysia. The product registrations in various emerging markets and regulated markets for rh-insulin and insulin analogs are in progress.

Biocon is also the first Indian company to have made inroads into Japan, one of the world's most stringent developed markets, with its Insulin Glargine. The company is developing an insulin analogs portfolio for other developed markets like US and Europe. Biocon has also entered into an agreement with Mexico's Laboratorios PiSA to develop and commercialize its rh-Insulin in the US market.

Biocon Limited, India already has approvals in over 60 emerging markets for its rh-Insulin and in over 20 emerging markets for its Insulin Glargine. It is serving the needs of patients with diabetes in several emerging markets in collaboration with its partners in LATAM and Southeast Asia.

The Malaysia facility will further augment Biocon's capabilities to cater to the global needs of affordable insulin and insulin analogs for patients with diabetes.
Malaysia Unit Walkthrough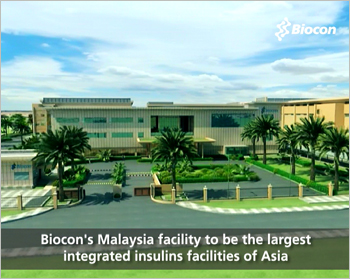 Contact:

Biocon Sdn. Bhd.,
No. 1, Jalan Bioteknologi 1,
Kawasan Perindustrian SiLC,
79200 Nusajaya, Johor,
Malaysia

T +607-5600000
E: queries.malaysia@biocon.com

For Job opportunities at Biocon Malaysia,
write to careers.malaysia@biocon.com